Inpatient and Outpatient Ambien Treatment Centers
Ambien Addiction Treatment and Rehab
Ambien
addiction recovery
is possible. Research shows that intensive treatment for the physical, psychological and behavioral effects of Ambien addiction increases the chances of successful recovery significantly.
---
Can Ambien Abuse and Addiction Be Treated?
Treatment for Ambien is available, and recovery is indeed attainable. Effective treatment components include:
Physical Treatment: Ambien withdrawal should be supervised medically to ease symptoms and best ensure that detox is safe and successful. When faced with unmanaged and quite unpleasant withdrawal effects, treatment attempts are frequently abandoned. Additionally, dangerous medical complications such as seizures have been reported in those attempting to recover from severe Ambien dependency.
Psychological Treatment: Anxiety, depression and even panic can arise during withdrawal and early recovery. Support counseling and stress management/relaxation techniques can help manage these symptoms.
Behavioral Treatment: Use of Ambien to cope with daily stress and/or to feel 'normal' are replaced with other life coping skills and behaviors learned in individual and group counseling, education groups, and relapse prevention planning.
---
Do I Need Addiction Treatment?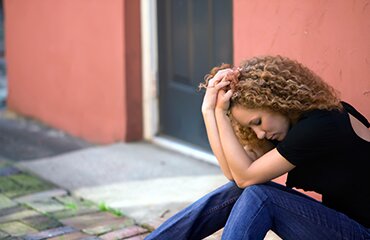 Find Help Today If you see the signs of addiction in yourself or another, find help now. Search for recovery centers. 
Therapists are Standing By to Treat Your Depression, Anxiety or Other Mental Health Needs
Signs and symptoms that indicate a need for Ambien addiction treatment include:
Using Ambien in greater amounts, more frequently and at times not prescribed.
Having cravings and needing more over time to achieve the same effect.
Feeling anxious, panicked or having withdrawal symptoms when a dose is missed or decreased.
Becoming isolated.
Not fulfilling usual obligations and responsibilities.
Having memory problems, poor concentration, confusion, and difficulty communicating with or understanding others.
Experiencing poor coordination, falls, slurred speech, and poor balance.
Sleeping too much.
Obtaining Ambien from more than one prescriber or supplementing your prescription with Ambien obtained without a prescription.
---
Types of Treatment
Residential Treatment

Residential Ambien treatment is typically what most people think of as 'rehab'. People usually stay at a residential treatment center in 30-day increments depending upon their needs. A structured schedule of therapies and activities are provided for daily intensive treatment and support while clients benefit from a period of respite from usual life challenges and living environments.

Residential treatment is an immersion in recovery education, experiences, and therapy during which one gains the skills and momentum to re-enter the community and remain Ambien-free.

The interventions offered in the residential treatment for sedative-hypnotic drugs include detox, counseling, nutrition development and education about addiction and the recovery process. Other stress management techniques including meditation and biofeedback may also be utilized by some specialty rehabs, which can prove especially important to individuals for which sleep issues contributed to their Ambien abuse. Residential programs should be the treatment of choice for those who have had heavy and/or prolonged Ambien use.

Inpatient Treatment vs. Outpatient Care

Some are successful in outpatient treatment, but many are not. Outpatient treatment occurs with scheduled sessions in an office setting while one continues to live in the community while undergoing a gradual tapering down of the Ambien dose. Many are unsuccessful in such a program because they have little support, anxiety and other mental health disorder and/or have had heavy and/or prolonged use.

The intensive support and lack of access to Ambien in an inpatient setting can be significantly more beneficial. High-dose abusers, the elderly and those abusing sedative-hypnotic drugs in conjunction with alcohol or other substances are likely to require inpatient treatment.

There are many options for inpatient services. These include:

Residential centers.
Private and luxury settings.
Settings that can accommodate the needs of busy executives.
Holistic rehabilitation.

Medically Assisted

It is vital that you or your loved one consult with your prescriber or an addiction professional if you plan to withdraw from Ambien and pursue recovery. Especially after heavy or prolonged use, a medically assisted program is recommended.

Services there can help ease the discomfort of withdrawal, manage any co-existing physical or psychiatric conditions and dramatically increase your chances of a successful treatment.

Gradual dose tapering has been a commonly recommended approach for successful discontinuation of sedative-hypnotic drugs. There are some case reports that support the short-term use of diazepam in the management of zolpidem withdrawal.

Instantly Check The Insurance Coverage

 We'll instantly check the coverage offered by your insurance provider.
 You may receive treatment at one of our facilities at a reduced rate.
 Though not required, entering your policy membership ID will help expedite your verification process.

Psychological support plays an important adjunct role whenever indicated.

Counseling and Therapy

Many have self-medicated depression, anxiety, unresolved trauma, poor coping skills or relationship problems with Ambien. Effective Ambien addiction treatment provides counseling and therapy to address such issues and manage them more successfully. Otherwise, even after a successful course of treatment, relapse is more likely.

Psychological support has been recommended as an adjunct intervention during sedative-hypnotic discontinuation.

Cognitive behavioral therapy can help build self-efficacy and its use is associated with improved outcomes among individuals abusing sedative-hypnotic drugs. Additionally, it has shown to improve sleep – a disturbing symptom among those trying to quit sedative-hypnotics.

Counseling and therapy during Ambien addiction treatment can help in developing long-lasting strategies for improving the quality and health of one's daily life after treatment. This is done through techniques that support and motivate change while helping you implement the replacement of unhelpful thoughts, beliefs, and behaviors. An array of therapies—individual, group and family—ensures the best outcomes.

Partial Hospitalization and Intensive Outpatient (IOP)

Ambien recovery is often a lengthy process due to residual effects of the drug that linger for some months. Also, those new to recovery greatly benefit from the support of aftercare services that gradually decrease in intensity as one improves.

Partial hospitalization and intensive outpatient programs are very effective during one's early recovery. They provide some hours per day of treatment while you are living in the community. You might attend daily or several days per week. For those addicted to Ambien, these services support you through your transition to an Ambien-free lifestyle back in your usual surroundings.
---
Dual Diagnosis Treatment: What to Expect
Dual diagnosis treatment for those addicted to Ambien addresses the mental health problems that are also present when the addiction is being treated.
Dual diagnosis programs have specially trained professionals who can identify and treat both the Ambien addiction and mental health issues simultaneously.
This is the best medical practice for Ambien addiction treatment when there are:
Freestanding psychiatric conditions present.
Significant psychological stress.
Psychiatric symptoms caused by addiction.
In a dual diagnosis program, you can expect to have a team of addiction and mental health professionals who evaluate and make recommendations for successfully managing both conditions.
You should seek treatment if:
Your daily life functioning declines.
You use Ambien in ways that are not prescribed or known to a prescriber.
You have developed mental health symptoms.
You have cravings.
You are using greater or more frequent amounts of Ambien and/or feel discomfort without it.
A treatment support advisor can help guide you to suitable Ambien treatment programs in your area. Please call 1-888-993-3112Who Answers?.
---
How to Choose the Best Treatment
Consult with an addiction professional when choosing an Ambien addiction treatment program that is appropriate for you. Research shows that treatment targeting individual needs is most effective.
Specific needs to consider are:
The severity and length of time you have used Ambien.
Whether you need simultaneous specialized care such as for age, mental health, a safe pregnancy or potential health complications during detox.
What is affordable for you since accommodations, settings and costs vary.
Ashton, H. (1994). The treatment of benzodiazepine dependence. Addiction, 89(11), 1535-1541.
O'Brien C, P. (2005). Benzodiazepine use, abuse, and dependence. J Clin Psychiatry, 66 Suppl 2, 28-33.
Ashton, H. (2005). The diagnosis and management of benzodiazepine dependence. Curr Opin Psychiatry, 18(3), 249-255.
Rappa, L. R., Larose-Pierre, M., Payne, D. R., Eraikhuemen, N. E., Lanes, D. M., & Kearson, M. L. (2004). Detoxification from high-dose zolpidem using diazepam. Annals of Pharmacotherapy, 38(4), 590-594.
Rappa, L., Larose-Pierre, M., Payne, D., Eraikhuemen, N., Lanes, D., & Kearson, M. (2004). Detoxification from high-dose zolpidem using diazepam. Annals of Pharmacotherapy, 38(4), 590-4.
O'Connor, K., Marchand, A., Brousseau, L., Aardema, F., Mainguy, N., Landry, P., Savard, P., et al. (2008). Cognitive–behavioural, pharmacological and psychosocial predictors of outcome during tapered discontinuation of benzodiazepine. Clinical psychology & psychotherapy, 15, 1–14.
Morin, C. M., Bastien, C., Guay, B., Radouco-Thomas, M., Leblanc, J., & Vallières, A. (2014). Randomized clinical trial of supervised tapering and cognitive behavior therapy to facilitate benzodiazepine discontinuation in older adults with chronic insomnia. American Journal of Psychiatry. Am Psychiatric Assoc. Retrieved from http://ajp.psychiatryonline.org/doi/10.1176/appi.ajp.161.2.332
Askew, J. P. (2007). Zolpidem Addiction in a Pregnant Woman with a History of Second‐Trimester Bleeding. Pharmacotherapy: The Journal of Human Pharmacology and Drug Therapy, 27(2), 306-308.
Brodeur, M., & Stirling, A. (2001). Delirium associated with zolpidem. Annals of Pharmacotherapy 35(12), 1562-4.
Chopra, A. (2013). Para-suicidal amnestic behavior associated with chronic zolpidem use. Psychosomatics, 54(5), 498-501.
Cubala WJ, Landowski J & Wichowicz HM. 2008. Zolpidem abuse, dependence and withdrawal syndrome: Sex as susceptibility factor for adverse effects. Br Journal of Clinical Pharmacology, 65: 444-445. 5.
Hajak, G., Muller, W., Wittchen, H., Pittrow, D., & Kirch, W. (2003). Abuse and dependence potential for the non-benzodiazepine hypnotics zolpidem and zopiclone: A review of case reports and epidemiological data. Addiction 98, 1371–1378.
Hoehns JD, P. P. (1993). Zolpidem: a nonbenzodiazepine hypnotic for treatment of insomnia. Clinical Pharmocology, 12(11), 814-28.
Holm, K., & Goa, K. (2000;). Zolpidem: An update of its pharmacology, therapeutic efficacy and tolerability in the treatment of insomnia. Drugs 59, 865–889.
Huang MC, Lin HY & Chen CH. Dependence on zolpidem. 2007. Psychiatry and Clinical Neuroscience, 61: 207-208.
Korpi, E., Mattila, M., Wisden, W., & Luddens, H. ( 1997). GABA (A) -receptor subtypes: Clinical efficacy and selectivity of benzodiazepine site ligands. Annals of Medicine,.29, 275–282.
Madrak, M. R. (2001). Zolpidem abuse. American Journal of Psychiatry, Aug;158(8), 1330-1.
Liappas, I. (2003). Zolpidem dependence case series: possible neurobiological mechanisms and implications for patient safety. Psychosomatics, 54(5), 498-501.
Mattoo, S. K., Gaur, N., & Das, P. P. (2011). Zolpidem withdrawal delirium. Indian Journal of Pharmacology, 43(6), 729.
Mattoo, S., Gaur, N., & Das, P. (2011). Zolpidem withdrawal delirium. Indian Journal of Pharmacology, 43(6), 729–730.
Rappa, L. R., Larose-Pierre, M., Payne, D. R., Eraikhuemen, N. E., Lanes, D. M., & Kearson, M. L. (2004). Detoxification from high-dose zolpidem using diazepam. Annals of Pharmacotherapy, 38(4), 590-594.
Rappa, L., Larose-Pierre, M., Payne, D., Eraikhuemen, N., Lanes, D., & Kearson, M. (2004). Detoxification from high-dose zolpidem using diazepam. Annals of Pharmacotherapy, 38(4), 590-4.
Chen, H. C. (2012). Detoxification of high-dose zolpidem using cross-titration with an adequate
Sanna E, B. F. (2002). Comparison of the effects of zaleplon, zolpidem, and triazolam at various GABA (A)receptor subtypes. European Journal of Pharmacology, 451, 103–110.
Sethi, P. ( 2005). Zolpidem at supratherapeutic doses can cause drug abuse, dependence and Psychopharmacology,15(3), 181-2.
Vartzopoulos D, B. V. (2000). Dependence on zolpidem in high dose. International Clinical Psychopharmacology, 15: 181-182.
Victorri-Vigneau, C., Gérardin, M., Rousselet, M., Guerlais, M., Grall-Bronnec, M., & Jolliet, P. (2014). An update on zolpidem abuse and dependence. Journal of addictive diseases, 33(1), 15-23.
Wang, L. H., Lin, H. C., Lin, C. C., & Chen, Y. H. (2010). Increased risk of adverse pregnancy outcomes in women receiving zolpidem during pregnancy. Clinical Pharmacology & Therapeutics, 88(3), 369-374.
Whiteside, L., Walton, M. A., Bohnert, A., Blow, F., Bonar, E., & P. Erlich, R. C. (2013). Nonmedical Prescription Opioid and Sedative Use Among Adolescents in the Emergency Department. Pediatrics: 32(5) , 825-832. . Retrieved from http://pediatrics.aappublications.org/content/early/2013/10/23/peds.2013-0721.abstract