Inpatient and Outpatient Ativan Treatment Centers
Ativan Addiction and Abuse
Ativan (lorazepam) is a short-acting sedative medication - indicated for time limited management of anxiety. Like other benzodiazepines (BZDs), Ativan is frequently used by poly-drug users, such as alcohol, stimulant, or opiate-dependent individuals, in order to increase or decrease the effects of other drugs.
---
Additionally, elderly persons may be prescribed BZDs such as Ativan for agitation, anxiety or other mental or behavioral health conditions. With this population though, the risk of fatal injury or death increases with the increasing use of BZDs like Ativan. Most of the time, Ativan is prescribed legally by a health care professional, but use can become non-medical over time and spiral out of control.
---
Can Ativan Abuse and Addiction Be Treated?
Ativan addiction is a complex disease, and there is no "right answer" when it comes to treatment.
Therapists are Standing By to Treat Your Depression, Anxiety or Other Mental Health Needs
Like most substance-abuse problems, the struggle of Ativan addiction must be managed comprehensively--so that the physical, psychological and social aspects of the problem are adequately addressed.
Useful psychological therapies for Ativan addiction include:
Cognitive behavioral therapy (CBT).
Motivational interviewing (MI).
Often time, these options involve a licensed counselor and can be administered either an outpatient or inpatient basis, depending upon the circumstances.
CBT helps addicts who often have inadequate skills when it comes to efficient "braking systems" between drug cues and actual using behavior. As an alternative to Ativan or any medication, research has indicated that CBT is an effective and powerful treatment strategy for depression and other cognitive issues that co-occur with benzodiazepine addiction.
One behavioral therapy that has shown promise with Ativan addiction is contingency management (CM), which involves receiving a voucher for clean drug tests that is redeemable for valued goods or services. Studies show that exposure to CM increases retention in treatment and drug-free days.
One study found that CM was particularly helpful with dual diagnosis clients, those who struggle with major depressive disorders and generalized anxiety disorder.
Since Ativan addiction is often a family disease, family-centered therapies are also available and effective at addressing issues and repairing relationships among family members. Parents of addicted teens who participated in the Behavioral Exchange Treatment Systems Training program increased parental coping skills and family communication.
Therapies will help with not only the Ativan addiction but any underlying mental health illness as well.
---
Do I Need Addiction Treatment?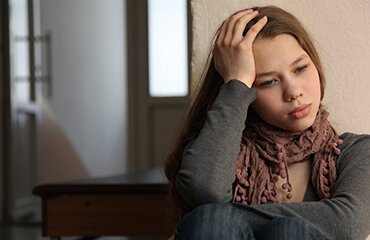 Find a Treatment Center If you are experiencing a telltale indicator of Ativan addiction, help is available. Find a treatment center today.
Deciding whether you need Ativan addiction treatment is not the easiest task, as there are many questions to ask yourself that might shed light onto the severity of your Ativan addiction (especially since Ativan is prescribed and used legally, as directed in addition to illegally).
It may be difficult to determine if your Ativan use is problematic, or as prescribed; your doctor may be able to help you answer these questions. However, there are some telltale indicators that there is a problem with your Ativan use.
You may need to seek treatment if:
Your work or home life has been disrupted due to your Ativan use or you are having family problems.
You feel a compulsion to use Ativan or spend the vast majority of your time seeking Ativan.
You have a lack of social support.
You have a co-occurring mental illness that requires treatment.
If you have any questions about Ativan addiction treatment, please call 1-888-993-3112Who Answers? today to speak with one of our trained specialists to explore options in your area.
---
Types of Treatment
Residential Treatment
A residential treatment center is one that allows its patients to live there during treatment (as short as 30 days or as long as 12 months depending on the center and severity of addiction).
Since you are living in a setting that is staffed by medical professionals, your Ativan detox process will be monitored closely. Medications may be given to ease your withdrawal symptoms.
These residential treatment centers also facilitate:
Psychosocial therapies.
Group sessions.
Re-entry training to ease your transition back into society after rehab.
There is a consistent positive relationship between time spent in residential treatment and post-treatment outcomes, showing marked improvement in behavioral and psychological functioning the longer a client stays in treatment.
One disadvantage of residential treatment is the cost: it can be quite expensive to attend one of these centers. Also, many centers do not allow you to leave to continue going to work during treatment.
Inpatient Treatment Vs. Outpatient Care
Inpatient treatment covers baseline residential treatment, luxury and/or private treatment, and executive treatment options. As described above, all of these options are live-in centers that provide comprehensive care for all of your Ativan recovery needs.
Residential treatment

is the baseline inpatient treatment which provides an immersive environment of care.

The main benefit is that it takes you away from the temptations of your everyday life for a specific period of time to focus on recovery.

Luxury/private rehab

can be more expensive than normal residential treatment.

However, luxury rehab is appealing to many because it has more amenities (similar to those of a resort) than residential treatment.

Executive rehab

is often the most expensive treatment setting.

However, it caters to executive and celebrity clients that require the utmost discretion in their treatment. It allows you to continue handling the needs of your business while you get treatment.
Many inpatient programs provide some access to medical services, including supervised detox and withdrawal periods, when warranted.
However, outpatient care is available and may be a better option for some Ativan addicts. Depending on financial and family situations, outpatient care may be the only option for some, and that is okay.
Outpatient care may actually include a brief initial inpatient to facilitate detox, after which the patient transitions to outpatient counseling and therapy. A structured detox can take place on a fully outpatient basis, with close follow-up with a medical or treatment professional to coordinate the process. Outpatient treatment is often much cheaper than inpatient treatment.
Medically Assisted Treatment
Unfortunately, there is no FDA-approved medication to treat Ativan addiction. However, a long-acting BZD such as diazepam or chlordiazepoxide (Valium or Librium), gradually tapered over several months, can be an effective adjunct to medically-assisted treatment.
Another drug of increasing interest in the medically-assisted treatment of addiction to Ativan is flumazenil (Romazicon), which can reduce symptoms in the months following withdrawal. Its efficacy in research studies has warranted consideration of an extended formulation for long-term treatment.
There are medications that may ease the symptoms of Ativan withdrawal. For example, insomnia and anxiety are symptoms of Ativan withdrawal, which can be combated with short-term sleep aids and non-benzodiazepine anxiolytics.
Headaches, dizziness, nausea and vomiting may also be present, and all can be controlled with prescription medications, should they be severe enough. In many cases, supportive care--including adequate rest and nutrition--will be important in navigating this period.
Counseling and Therapy
Two therapies that are often effective in Ativan addiction are:
Cognitive behavioral therapy is a method that works to change the way the patient thinks and acts, especially in response to stressful situations (without relying on the sedative effects of Ativan).
CBT is typically presented in a one-on-one clinic setting with a therapist; however, other delivery options are available. An extensive study has shown CBT to be more effective in individual therapy, rather than in group settings.
Motivational interviewing is another technique used to help Ativan addiction. Different from CBT, motivational interviewing (MI) is an interviewing technique that helps the patient realize his own internal motivations to change his Ativan-using behavior.
MI has evidence-based effects, especially for individuals who have a dual diagnosis psychiatric disorder:
Reductions in drug use frequency at the 2-year follow-up for this population vs. treatment as usual demonstrates the effectiveness of MI in addiction treatment.
CBT and MI used together have been shown to have effective results, helping to change behavior while increasing motivation towards the goal of continued recovery.
Partial Hospitalization and Intensive Outpatient (IOP)
This option provides the structure of inpatient treatment, without the strictness of living in the facility.
Partial hospitalization treatment is an option for Ativan addicts that are in between inpatient and outpatient treatments.
It is also called "day treatment", which means that patients spend several hours per day (usually those that are most difficult for the patient to maintain abstinence) at the treatment center.
This option provides the structure of inpatient treatment, without the strictness of living in the facility.
Partial hospitalizations are often accompanied by intensive outpatient treatment, including therapy and counseling.
---
Dual Diagnosis Treatment: What To Expect
To have a dual diagnosis is to grapple with a mental or behavioral health condition in addition to a substance abuse problem. Dual diagnosis situations are especially prevalent in the case of Ativan since it is used to treat mental health conditions (such as anxiety).
In fact, dual diagnosis is almost a given with an Ativan addiction that took hold after a period of prescription use for anxiety.
The effective treatment of clients with mood or anxiety disorders incorporates interventions such as CBT, which treats both the addiction and co-occurring mood or anxiety disorder.
One of the most complicated components of dual diagnosis and Ativan addiction is controlling the underlying anxiety condition once the patient has detoxed from Ativan.
There are other anxiolytics, that are NOT benzodiazepines, which are safer to take long-term and have less abuse potential, and these may be a feasible option for the Ativan addict. Talk to your health care provider about the options for treating the underlying condition prior to or during Ativan addiction treatment.
If you feel like using Ativan has taken over your life, it is time to seek treatment.
There is no shame associated with admitting you have a problem with Ativan, actually quite the opposite.
Seeking treatment for Ativan addiction will not only improve your quality of life but also that of your family and friends. Remember, addiction is a family disease, affecting all members of the family and close friends. Please call 1-888-993-3112Who Answers? today to start your journey down the road to recovery from Ativan addiction.
---
How To Choose The Best Ativan Treatment
Choosing the best Ativan addiction treatment is challenging; however, with some help and support from a treatment specialist, you can be confident in your decision about your Ativan addiction treatment.
First, you must decide what kind of price range you are working with, as this dictates the options available.
Next, you need to decide whether you want inpatient or outpatient treatment.
Additionally--and hopefully under the advice of a treatment professional--decide how long you want (or need) to stay in treatment,
Finally, you'll need to choose what other amenities are important to you.
A combination of these factors will help you select the treatment center that fits your individual needs.
Bond, A. (2013). Unit 3: Treatment of Addiction. Pharmacotherapies. Short-Term Management of Sedative Withdrawal. (Lecture format). International Program in Addiction Studies (IPAS). King's College, London: Virginia Commonwealth University, and University of Adelaide, Australia.
http://www.drugabuse.gov/publications/research-reports/prescription-drugs/treating-prescription-drug-addiction/treating-addiction-to-cns-depressants.
Longo, L. P., & Johnson, B. (2000). Addiction: Part I. Benzodiazepines - Side Effects, Abuse Risk, and Alternatives. Am Fam Physician, 61(7), pp. 2121-2128.
Toumborou, J. et al. (2001). Early Impact of the BEST Intervention for Parents Stressed by Adolescent Substance Abuse. J Comm Appl Soc Psychol, 11, pp. 291-304.
Howatt, W.A. (2005). Chapter 15: Cognitive Behavioral Models. In Coombs, R.H., ed. Addiction Counseling Review: Preparing for Comprehensive, Certification, and Licensing Exams. Mahwah, NJ: LEA. pp. 337-356.
DeLeon, G. (2008). Therapeutic Communities. In Galanter, M., and Kleber, H.D., eds. The American Psychiatric Textbook of Substance Abuse Treatment. Fourth Edition. Washington, DC: American Psychiatric Publishing, Inc. pp. 459-475.
Substance Abuse and Mental Health Services Administration (SAMHSA) (2009). Working with Clients with Co-Occurring Psychiatric Disorders: TIP 47. pp. 162-177.
Bag?ien, G., et al. (2013). The Effects of Motivational Interviewing on Patients with Comorbid Substance Use Admitted to a Psychiatric Emergency Unit - A Randomized Controled Trial with Two-Year Follow Up. BMC Psychiatry 13, 93.