Hydrocodone Rehab Centers and Addiction Treatment Help
What is Hydrocodone? Is Hydrocodone Addictive?
Hydrocodone, an opioid pain reliever, can offer quick relief from strong pain. It's also a
leading source of
addiction
, with
more than 100,000 Americans
dying from hydrocodone and other pain relievers over the last decade.
The DEA recently responded to this epidemic by moving the drug from Schedule III to Schedule II, hopefully discouraging careless over-prescribing and making it more difficult to obtain from an illicit market.
---
Do I Need Hydrocodone Rehab? Is There Hydrocodone Treatment?
If you struggle with addiction to hydrocodone, you might believe that trying just a little harder will get you sober. Or perhaps you're so hopeless that you can't imagine feeling normal, let alone good, without this powerful drug. If you have a medical prescription for hydrocodone, you might not even think your constant need for this drug is a problem. However, addiction can occur even if a doctor prescribes the drug you use.
Any mind-altering substance can become addictive. If you feel like you need hydrocodone just to function, you're likely already experiencing some level of drug dependency - rehabilitation can help.
Some individuals are able to recover with less intensive treatment, starting with a detox program and followed by therapy and 12-step program participation.
Therapists are Standing By to Treat Your Depression, Anxiety or Other Mental Health Needs
If you're unsure whether rehab is right for you, here are some signs that you may need inpatient care to get sober: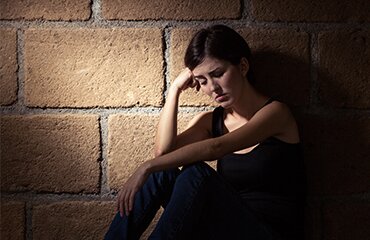 Find a Treatment Center No one deserves hydrocodone addiction. Don't wait to get better. Find a recovery center today.
You've recently suffered a loss or trauma, or you live with unsupportive people or in a dysfunctional environment.
You have a history of mental illness. (Hydrocodone withdrawal can trigger a host of symptoms, most notably depression.)
You have a medical prescription for hydrocodone; you may need assistance finding other ways to cope with pain or with locating a less addictive pain medication.
You abuse multiple drugs.
Addiction runs in your family.
You've previously tried to get sober and have relapsed.
Your addiction is so severe that it endangers your life.
You've become violent, gotten arrested, or suffered health problems because of hydrocodone.
---
What to Expect From Hydrocodone Rehab
If your life is already in disarray, you might be anxious about further upending things by entering rehab. But rehab is nothing to fear, and the right rehab facility will help you feel welcomed and supported--not judged and stigmatized. Rehab offers a supportive environment free of alcohol or drugs, making it easier to get and stay sober.
Detox
Misuse of hydrocodone can quickly elicit a tenacious opioid dependency - with lasting influences on both body and mind for days to weeks after the last dose. Detox will take about a week, but you'll get both medical and psychological care to weather the storm, which may include:
Nausea.
Vomiting.
Muscle aches.
With regard to medication, a systematic review conducted in 2009 concluded that Buprenorphine and methadone were similar in their effectiveness for reducing symptom severity during detox. Buprenorphine, however, has an advantage over methadone in that it has a limited potential to cause respiratory depression and cardiovascular toxicity. Also, it is less sedating, so it may be more beneficial for users of prescription opioids.
The alpha 2 adrenoceptor agonist Clonidine is demonstrably effective in reducing the symptoms of opioid withdrawal, but due to physiological problems like hypotension, close monitoring it required during administration. Therefore, it is unsuitable for outpatient settings but may be used successfully in inpatient rehabilitation. Additionally, Suboxone and Trazadone may also be used to reduce acute symptoms.
Suboxone is a combination of buprenorphine and naloxone in a 4:1 ratio. A 2014 review that assessed the current evidence in the efficacy of Suboxone in treating prescription opioid misuse concluded that it was an effective treatment in reducing withdrawal symptoms and craving; while improving abstinence duration.
Adjunct Therapy
Research has found that psychosocial therapies, particularly contingency management and family-oriented therapies have been particularly effective in treating prescription opioid addiction, improving treatment retention and overall outcomes.
After you're finished with detox, the real work toward sobriety begins. Rehab offers therapy to help you better understand your addiction. Therapy can also help you cultivate new skills for managing stress.
Many hydrocodone addicts find that cognitive-behavioral therapy helps them manage pain, stress, and anxiety.
If your hydrocodone addiction has wrought havoc in your relationships with friends and family, you might also participate in family therapy. Most rehab facilities actively encourage family involvement, which means you'll be able to visit and contact your loved ones. Your counselor may also educate your family about the disease of addiction while working to help you make amends for the pain your addiction has caused.
Research has found that psychosocial therapies, particularly contingency management and family-oriented therapies have been particularly effective in treating prescription opioid addiction, improving treatment retention and overall outcomes.
Medical Care
You'll also get help for the medical side of your addiction. If you began taking hydrocodone to get to sleep, for instance, your doctor can help you find better alternatives. If you struggle with chronic pain, a physician will offer you coping skills that don't involve addictive drugs.
Support Groups
At most rehab facilities, you'll also participate in 12-step recovery meetings.
If you have a specific concern about rehab, don't shy away from asking lots of questions. Odds are good that there's a program that perfectly correlates with your needs, but you won't find it if you're not willing to spend some time searching.
A caring treatment support staff member is available 24/7 to make the process easier for you. Please call 1-888-993-3112Who Answers? today.
---
How Long Does Rehab Take?
The average rehab stay is about 45 days. Many rehab facilities operate according to a specific timetable of 30, 60, or 90 days.
It's wisest to let your condition guide you:
If you've had a long battle with addiction, a longer stay in rehab might be best.
If your opiate dependency is relatively new, 30 days could be sufficient to get you sober.
Because opioids are among the world's most dangerously addictive drugs, most hydrocodone addicts find that they need a slightly longer stay in rehab, so consider a 60 or 90-day program.
---
Types of Rehab Facilities
If you think rehab is little more than a one-size-fits-all approach to recovery, think again. No two cases are alike, and the reasons for abusing hydrocodone are as diverse as addicts themselves. Some folks need help managing a medical condition that led to a hydrocodone prescription. Others struggle with anxiety or depression, and some need help managing the medical side effects--such as memory loss or migraines--of opioid addiction.

Private or Luxury Rehab

Private and luxury rehabs offer all the benefits of traditional rehab, but in a luxurious, vacation-like setting. You may have a private room, as well as access to enrichment activities such as yoga classes, group hikes, or career-building exercises.

Many luxury facilities are situated near the ocean, or in peaceful and bucolic settings, while others offer gourmet meals and access to a spa.

Executive Rehab

Executive rehab aims to meet the needs of busy professionals who need to continue working while seeking treatment. These private facilities are especially mindful of confidentiality issues, but they also offer meeting spaces and a business center.

You'll spend your time with other professionals who understand the demands of your career--not people who have no idea what your daily life is like. Many executive facilities also feature luxurious settings.

Other Specialized Rehab Programs

A veritable cornucopia of alternative programs offer a host of services. Some of the most common specialized rehab programs include:

Single-sex programs, which can be helpful for individuals who have a co-occurring compulsive sexual behaviors, as well as people with a history of sexual abuse.
LGBT-friendly programs. These programs recognize the role oppression can play in addiction.
Dual diagnosis programs. These programs cater to addicts who have an underlying mental health problem, such as depression or anxiety.

Both depression and anxiety have a high correlation with prescription opioid addiction and this population also has a higher propensity for relapse. Therefore, dual-diagnosis programs may be highly effective in addressing the outward manifestation (hydrocodone abuse) of an underlying problem.

Holistic programs. These programs focus on natural approaches to recovery, minimize the use of prescription drugs, and offer lifestyle remedies such as nutritional counseling and yoga.

This is important because many people become dependent on hydrocodone after using it for alleviating pain, and pain management is crucial to maintaining post-treatment abstinence. So, hollistic programs can offer the therapies required to empower individuals in the self-management of pain.
---
Paying for Hydrocodone Rehab
Inpatient rehab is the most expensive option for recovering from addiction, but it's also one of the most effective. If you're concerned about payment, you have an array of options.
Many rehabs partner with banks and other private lenders, allowing patients to finance all or part of their care.
Others offer payment plans, allowing residents to pay for rehab over time.
If loved ones have expressed concern about your addiction, you may be able to get help from them.
Some private and public organizations also offer grants and loans to struggling addicts, and many employee assistance programs cover rehab, so be sure to review your employee benefits.
Does Insurance Cover Hydrocodone Rehab?
Under the Affordable Care Act (better known as Obamacare), substance abuse disorders are listed among 10 conditions for which insurers must offer treatment.
If you meet the criteria set out by your insurer, a portion of your rehab stay must be covered. Be sure to read the fine print on your insurance plan, though, since you may need to hit a deductible first or make some co-payments. You might also be required to receive a diagnosis or pursue outpatient treatment first.
Some insurers also limit your stay to a predetermined number of days or require you to choose from a list of rehab facilities.
The first step toward recovery is the hardest, which means it's also the most courageous. You don't have to suffer in silence. Addiction is a disease that feeds on hopelessness, but by seeking treatment, you rob your addiction of its power. If you or someone you love needs help, or if you need help determining whether your hydrocodone use is a problem, call 1-888-993-3112Who Answers?
---
What Happens After Rehab?
Find a Meeting Recovery support groups and 12-step meetings are great resources for those maintaining their sobriety. Find a meeting now.
Rehab is just the first step on the journey to sobriety, not the end of the line. You'll need to take proactive steps to protect your sobriety, and your history of addiction will always mean you're vulnerable to future addictions.
Many recovering addicts find that 12-step meetings and therapy help them remain sober. Others commit to excellent nutrition and plenty of exercise. The key is to find a distraction that offers something better than hydrocodone, and to continually manage your mental and physical health.
---
How to Pick the Right Rehab
Because hydrocodone can ease both physical and psychological pain, it's important to choose a location that offers both medical care for physical health issues, and psychological care for underlying symptoms of depression and anxiety.
Ask about the facility's specific approach to sobriety, since you deserve a place where you feel welcome and your values are respected.
You'll also want to ask about:
The conditions in which you'll be living.
The program's cost, and which insurance plans it accepts.
The program's success rates.
Whether and when you can have visitors.
How long the average stay lasts.
Whether the center endorses a specific treatment philosophy, or caters to a specific type of addict, such as LGBT addicts or those with a dual diagnosis.