Hydrocodone Withdrawal Symptoms, Timeline, Causes and Treatment
What is Hydrocodone? Are There Withdrawals from Hydrocodone Use?
Hydrocodone is an opioid medication used to treat severe pain and can be
highly addictive
when taken over a long period.
If you have a history or family history of addiction, you may be at an increased risk for becoming dependent on this medication.
---
---
Causes, Signs and Symptoms of Hydrocodone Withdrawal
You should not take hydrocodone if you have not been prescribed it.
When taken for a long period, hydrocodone can lead to mild physical dependence and when the medication is stopped, you may experience mild withdrawal symptoms.
If you have been taking hydrocodone for several months, you have an increased risk of moderate to severe withdrawal symptoms when you discontinue use.
Therapists are Standing By to Treat Your Depression, Anxiety or Other Mental Health Needs
Some people have a hard time coping with the withdrawal symptoms which is why there is an increase in the number of people who have been taking hydrocodone for a year or longer.
You should not take hydrocodone if you have not been prescribed it because of its addictive potential. You should not take more hydrocodone than prescribed as this increases the chance of developing withdrawal.
It is possible you will develop a tolerance to hydrocodone, and this will cause you to increase your dosage in order to achieve the same effect. Develop a plan with your doctor to safely take and discontinue this medication when it is time.
---
Symptoms of Hydrocodone Withdrawal
Symptoms of withdrawal from hydrocodone vary in intensity and depend on how long you have been taking it and how much you are currently taking.
Mild to moderate withdrawal symptoms include:
Chills.
Sweats.
Irritability.
Restlessness.
Acute symptoms last 5-7 days.
Moderate to severe withdrawal symptoms may include:
Nausea.
Vomiting.
Difficulty sleeping.
Anxiety.
Agitation.
Body aches.
Elevated blood pressure.
These acute symptoms may be treated with various medications and will typically last about 5-7 days.
Post-acute withdrawal symptoms (PAWS) may last a month or more and usually include:
Memory and concentration problems.
Low pain tolerance.
Craving.
---
Severity of Withdrawal Symptoms
In rare cases, withdrawal from an opioid has been deadly, usually due to untreated symptoms of high blood pressure and rapid heart rate.
If you have been taking hydrocodone at the prescribed dose for 3 months or less, you are more likely to experience mild to moderate symptoms of withdrawal.
If you have been taking hydrocodone for several months to years, you are more at risk of experiencing moderate to severe withdrawal symptoms and may be more prone to experience cravings for it, even several months after you stop using it.
If you or someone you love has seen their prescription hydrocodone use turn into a daily struggle, marked by an inability to cope without the drug, or a profound fear of withdrawal symptoms,
it is time to seek help
.
Call our 24/7-treatment support team at 1-888-993-3112Who Answers? for information on different treatment options.
---
Treatment for Withdrawal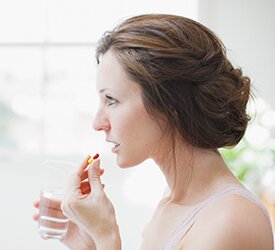 If you are experiencing withdrawal symptoms, you may be treated with a medication such as Suboxone, which helps ease withdrawal symptoms and prevents the effects of hydrocodone if you were to experience a relapse.
Suboxone can also help eliminate cravings and can be used as a maintenance medication. Methadone is a medication used to treat opioid addiction but is a synthetic opioid that has been known to precipitate a more difficult withdrawal syndrome than opioids or Suboxone.
Follow-Up and Maintenance
Once you are through the acute withdrawal phase, it will be important to follow up with resources that are aimed at relapse prevention. Even if you decide to use Suboxone or methadone as maintenance medications, it is still important to address all areas of recovery and build a support network for when you decide to come off these medications.
A 2015 study reported in the Journal of Substance Abuse Treatment found that patients frequently discontinue maintenance therapy prematurely, increasing their risk for PAWS and relapse.

Relapse prevention groups and group and individual therapy are beneficial in helping you learn coping skills necessary to maintain long-term sobriety.
Participation in 12-step programs of recovery such as Narcotics Anonymous (NA) or Pills Anonymous (PA) provides opportunities for fellowship and to develop a support system of people who can relate to what you are going through.
---
Inpatient vs. Outpatient Treatment
Inpatient Treatment

If you are experiencing moderate to severe withdrawal symptoms, inpatient treatment is recommended. Inpatient treatment will typically start with a detoxification period where you are monitored and assessed for severity of withdrawal symptoms.

You will meet with a doctor and together you will determine the best course of action for medications through the withdrawal process.

Therapy

During and after the detoxification period, you will be engaging in group and individual therapy designed to:

Teach you coping skills.
Educate you on addiction as a disease.
Engage you in a program of recovery.
Help you develop a plan for continuing care.


Outpatient Treatment

You may be referred to an outpatient program when you finish treatment at the inpatient level of care. Outpatient programs range in intensity and provide you with medical care and supportive psychotherapy in order to develop healthy habits and change negative thoughts to promote long-term abstinence.

Partial hospitalization is appropriate if you are experiencing mild to moderate withdrawal symptoms, as not everyone will require inpatient care.
---
Help Someone Cope with Withdrawal
You may be able to care for someone going through hydrocodone withdrawal at home so here are a few things to consider.
Your loved one may experience hot and cold sweats, so having extra sets of bed sheets on hand will make it more comfortable for them.
Make sure they are staying hydrated, and they have:

Tylenol or ibuprofen for pain.
Cold compresses for hot sweats.
Plenty of blankets for chills.
If you are concerned that your loved one may need inpatient treatment for successful withdrawal, call our treatment team at 1-888-993-3112Who Answers?. We can connect you with a variety of treatment options that provide the best care for your loved one's situation.
Bentzley, B.S., Barth, K.S., Back, S.E., Aronson, G., & Book, S.W. (2015). Patient
perspectives associated with intended duration of buprenorphine maintenance
therapy. Journal of Substance Abuse Treatment, 83-85. doi: 10.1016/j.jsat.2015.04.002.
Ziaaddini, H., Ziaaddini, A., Asghari, N., Nakhaee, N., & Eslami, M. (2014). Trial of
tramadol plus gabapentin for opioid detoxification. Iranian Red Crescent Medical
Journal, 17(1). doi: 10.5812/ircmj.18202.