The average 5-year-old laughs more than 100 times a day, the average teen checks their social media feed over 100 times per day, and most people check the time over 100 times a day. But something much worse also happens in the U.S. over 100 times a day: Someone in the country takes his or her own life. This amounts to more than 41,000 suicides over the course of a year, or one every 13 minutes.
Around 9 in every 10 people who die from suicide suffer from some type of mental illness. Specifically, depression – a condition that often is undiagnosed and untreated – is the most common condition associated with suicide. Tragically, because of the stigma surrounding mental illness, many sufferers find it difficult to reach out and ask for help.
There are many highly respected charities that are dedicated to supporting individuals who struggle with depression and suicidal thoughts. And many generous celebrities are putting their fame to good use by supporting these organizations. To learn more, we gathered information from LookToTheStars.org. Read on to discover which stars and which charities are committed to giving back.
If you or someone you know is battling with depression, please visit MentalHelp.net or call us at  1-888-993-3112Who Answers? today to get the support you deserve. If suicidal thoughts are occurring, call 911 or get help immediately.
Stars Who Support the Trevor Project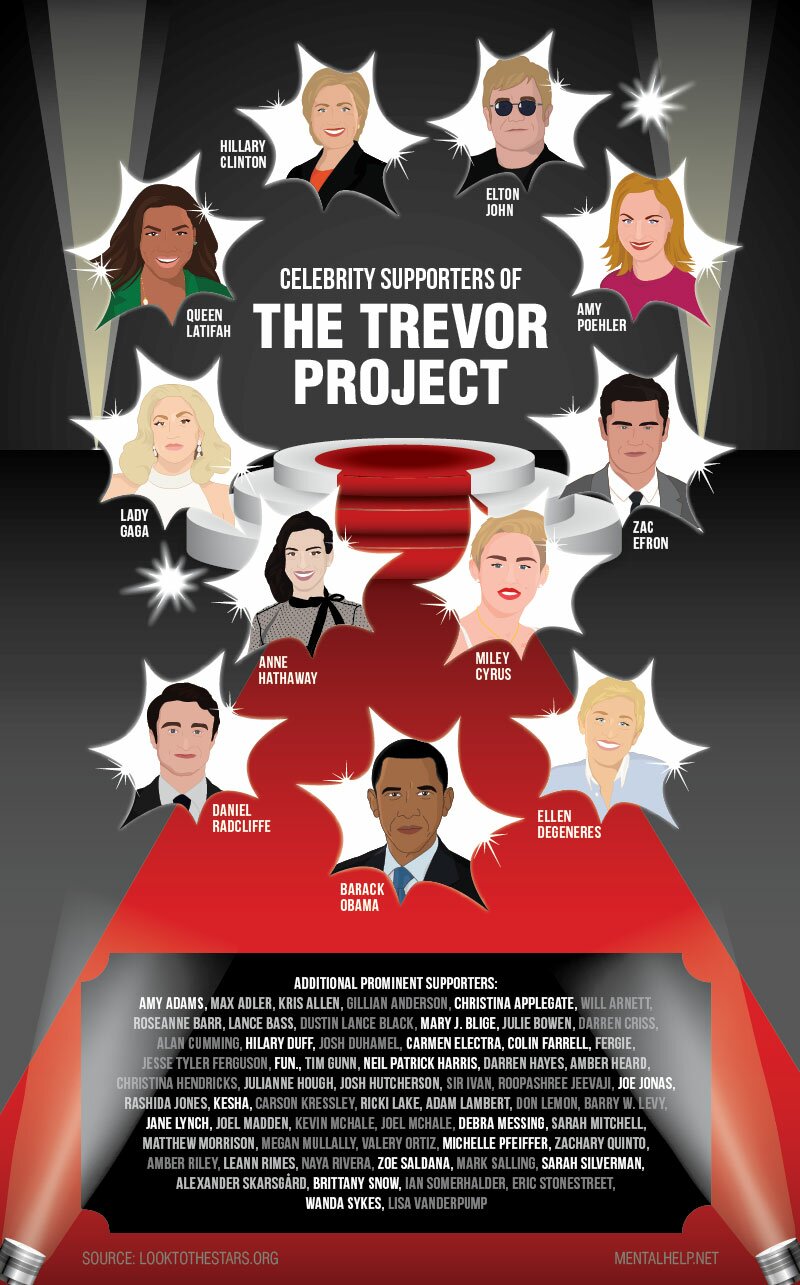 Therapists are Standing By to Treat Your Depression, Anxiety or Other Mental Health Needs
Ad
The Trevor Project is a national organization that provides suicide prevention and crisis intervention services to lesbian, gay, bisexual, transgender, and questioning (LGBTQ) young people ages 13 to 24. Founded in 1998 by the creators of the short film Trevor, the organization saves young lives through its confidential phone, instant message and text messaging intervention services.
The Trevor Project includes 71 celebrity champions from all walks of stardom. Perhaps the best known? President Barack Obama. A number of supporters are also past and present actors from the LGBTQ-friendly shows "Glee" and "Modern Family," including Max Adler, Darren Criss, and Julie Bowen.
Other prominent advocates are famed musicians, including Lady Gaga, Miley Cyrus, Mary J. Blige, Elton John, and Kesha. Numerous actors and actresses are among the ranks, too, including Amy Poehler, Alexander Skarsgård, Debra Messing, and Neil Patrick Harris.
How to Give Back:
Visit The Trevor Project to make a donation in support of LGBTQ youth.
Stars Who Support ChildLine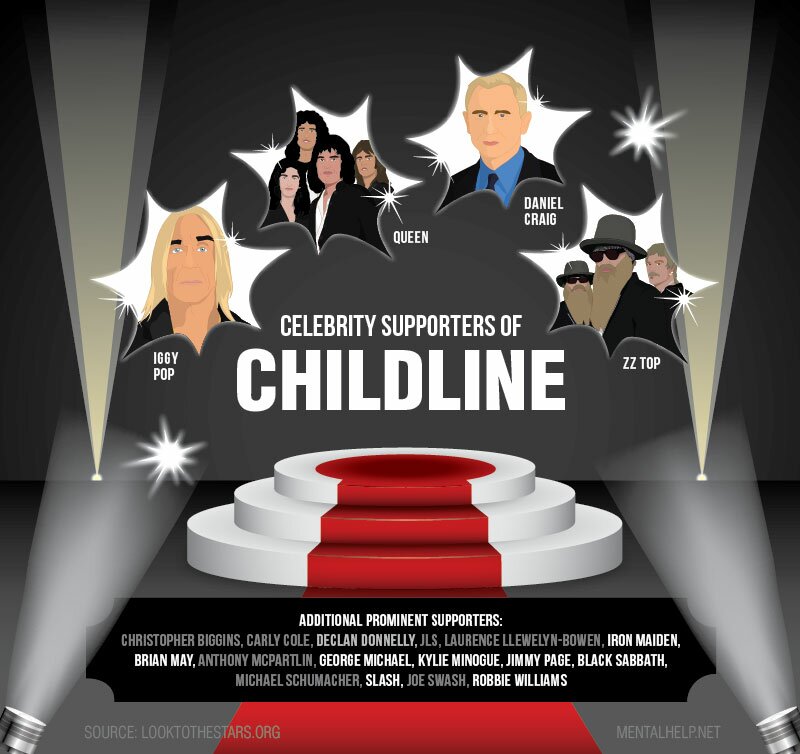 ChildLine is a free and confidential helpline in the U.K. where children and young people up to age 19 can discuss all types of problems – from the smallest to the most serious. For children who'd prefer not to talk on the telephone, the service also allows youths with concerns to reach out via email or online chat, post on the message board, or ask for advice on the problem page.
The website also offers resources on the types of issues young people may encounter, including abuse, bullying, mental health issues, and sexual identity. Several renowned bands and recording artists support the NSPCC-run organization, including Iggy Pop, Slash, and members of Black Sabbath, ZZ Top, and Queen.
Stars Who Support Other Depression- and Suicide-Related Charities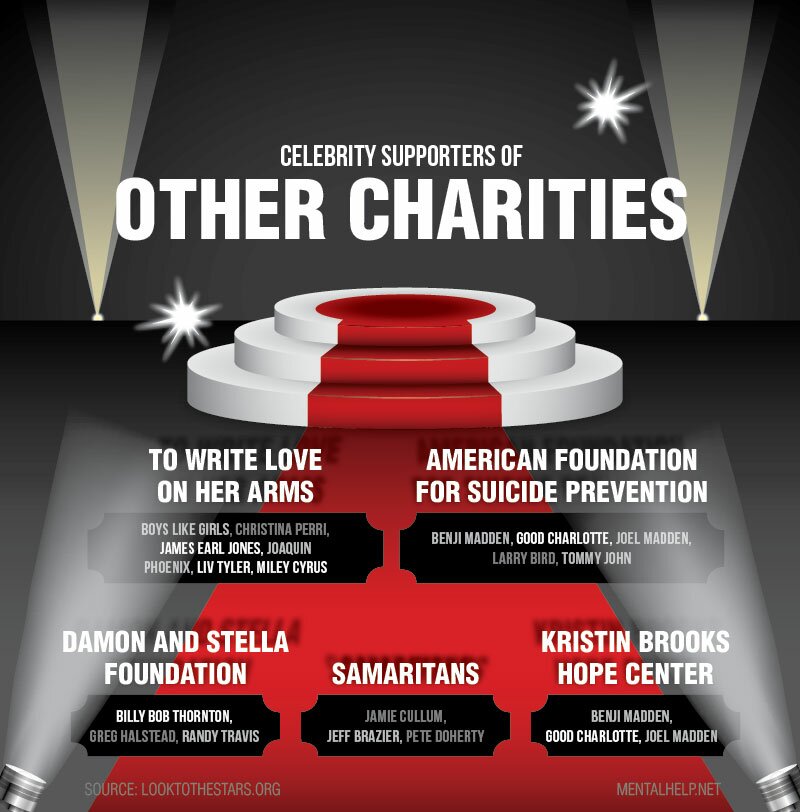 To Write Love on Her Arms is a nonprofit movement devoted to offering hope and help to people struggling with depression, addiction, self-injury, and suicide. Among its celebrity supporters are Joaquin Phoenix, Liv Tyler, and James Earl Jones.
Various celebs support the American Foundation for Suicide Prevention, including Larry Bird and Benji and Joel Madden. The national organization is dedicated to providing resources, aiding individuals and families affected by suicide, funding scientific research, and raising awareness.
Randy Travis, Greg Halstead, and Billy Bob Thornton all support the Damon and Stella Foundation for Mental Health, an organization committed to increasing awareness of mental health issues and breaking down the barriers for individuals seeking professional help. The organization focuses on awareness events, community training, and service projects to educate the public about suicide and advocate for prevention.
Jamie Cullum, Jeff Brazier, and Pete Doherty all support Samaritans: a well-known organization that provides nonjudgmental and confidential 24/7 support to people experiencing feelings of distress or suicidal thoughts. The organization has more than 20,000 volunteers in its 201 branches, which span five countries. Over 5 million individuals contact them for help each year – which translates into one person every six seconds.
Pop punk band Good Charlotte, including lead vocalist Joel Madden and lead guitarist and vocalist Benji Madden, lend support to the Kristin Brooks Hope Center – a nonprofit 501(c)3 organization focused on suicide prevention, awareness, and education. The organization's goal is to provide help and hope through school events, suicide crisis hotlines and online chat, and other educational programs.
How to Give Back:
Celebrities Who Support the Most Charities
While examining each of the charities dedicated to the education and prevention of depression and suicide, we found three celebrities whose support stands out from the rest. Good Charlotte frontman Joel Madden supports three organizations: the American Foundation for Suicide Prevention, the Kristin Brooks Hope Center, and the Trevor Project. His twin brother Benji Madden, guitarist and vocalist for Good Charlotte, is involved with two of the same: the American Foundation for Suicide Prevention and the Kristin Brooks Hope Center. Another celeb who gives back in multiple ways is Miley Cyrus, who supports both To Write Love on Her Arms and the Trevor Project.
Celebrities Who Give Back
In America and around the world, depression and suicide continue to be a serious and distressing problem. By offering support to charities dedicated to combating these issues, celebrities not only raise money – they also raise awareness. Millions of fans who may not otherwise have heard of these organizations just may be inspired to give back in their own way after attending a benefit or education event, seeing a televised interview, or reading an article.
If you or someone you know struggles with suicidal thoughts, depression or other mental health issues, or addiction, please get help today. Visit MentalHelp.net or call us at  1-888-993-3112Who Answers? to get free and confidential advice any time of day. You can also stay up to date on the latest mental health and wellness news and find listings where you can get support in your area or online.
Methodology
All data were pulled from www.looktothestars.org.
Sources
https://books.google.com/books?id=5cwYAgAAQBAJ&pg=PA65&lpg=PA65&dq=%22ucla+study%22+5-year-old+laughs&source=bl&ots=MBRFTNuWLg&sig=D4WMftsilnEJEEWnW1ajz3Nkvuo&hl=en&sa=X&ved=0ahUKEwizseS2junMAhUS02MKHekeBWoQ6AEIIDAB#v=onepage&q=%22ucla%20study%22%205-year-old%20laughs&f=false
http://wishtv.com/2015/10/06/study-teens-check-social-media-more-than-100-times-a-day/
http://katu.com/archive/march-4--what-does-the-average-person-do-more-than-100-times-a-day
http://www.cdc.gov/features/preventingsuicide/
http://www.cdc.gov/violenceprevention/pdf/suicide-datasheet-a.pdf
https://www.nami.org/Learn-More/Mental-Health-Conditions/Related-Conditions/Suicide
https://www.looktothestars.org/
http://www.thetrevorproject.org
http://www.childline.org.uk
https://twloha.com/
http://afsp.org/
http://thedasfoundation.org/
http://www.samaritans.org/
http://hopeline.com/
Fair Use
The assets found on this page are free to reuse and share. When doing so, we ask that you link back to the original page so that readers may see more of the project and methodology.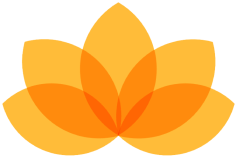 Myndfulness App
Designed to Help You Feel Better Daily
Download Now For Free
Ad